Hellou everyone.
I'm so sorry I've been away. I would get into detail about what I've been doing but it would take too long and quite frankly, it'll be a waste of a post. xD So as I was dealing with internet troubles (Oops, I spoiled it. Now you know EVERYTHING. GAH! Haha!) Anywho, as I was saying. As I was dealing with the lack of the interwebs, I decided to use the time wisely and knock some looks down. I have a load of photos to post, so bare with my lack of HAHA's and witty comebacks, I'm just one person...damn it. xD
Anywho, as an amateur makeup fondler I thought I'd do the one look (Besides Marilyn Monroe) that is quite done with every inspiring makeup artist....and that is ANGELINA JOLIE!
I am Hannabal Marie, NOT Angelina Jolie...therefore, I do know that I'm no way near as close as she is with her face...what I've done, I've done so with makeup. I distorted my face with contouring powder as best as I possibly could. If I don't look like her, by any means necessary, then that's because I am NOT her. Understand and look further with the eyes and knowledge that I am just a walking work of art. :)
Thank you!
Okay, Here we go:
Angelina Jolie
Before I show my look, here is the list of products I used:
(All products are from the drugstore: ELF, Maybellene, Loreal...The works.)
Eyes:
>White/Light Brown/Dark Brown/Copper colored eyeshadow(s)
>Black/Brown/Cream pencil liner
>Black liquid eyeliner
LIPS:
>

Dark Brown/Taupe Lip colored Pencil(s)
>Pink eyeshadow
>White cream shadow for highlights
FACE:
>I contoured my face with a darker shade than my own skin color. Highlighted the main points: apples of the cheeks, bridge of nose, chin and forehead. I then set everything with a translucent powder.
The contours are key for this look. The expressions are also important. Here is the finished product: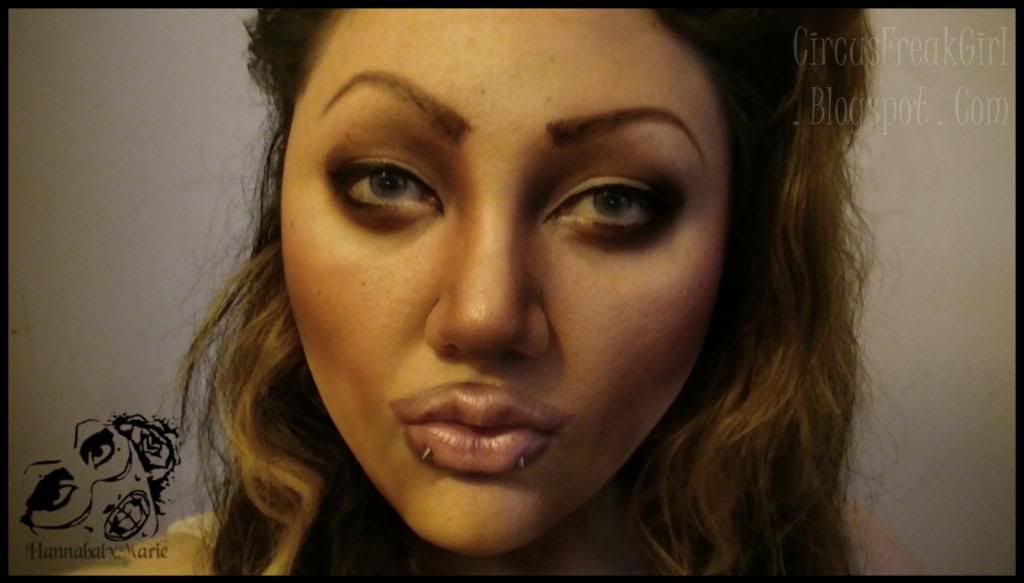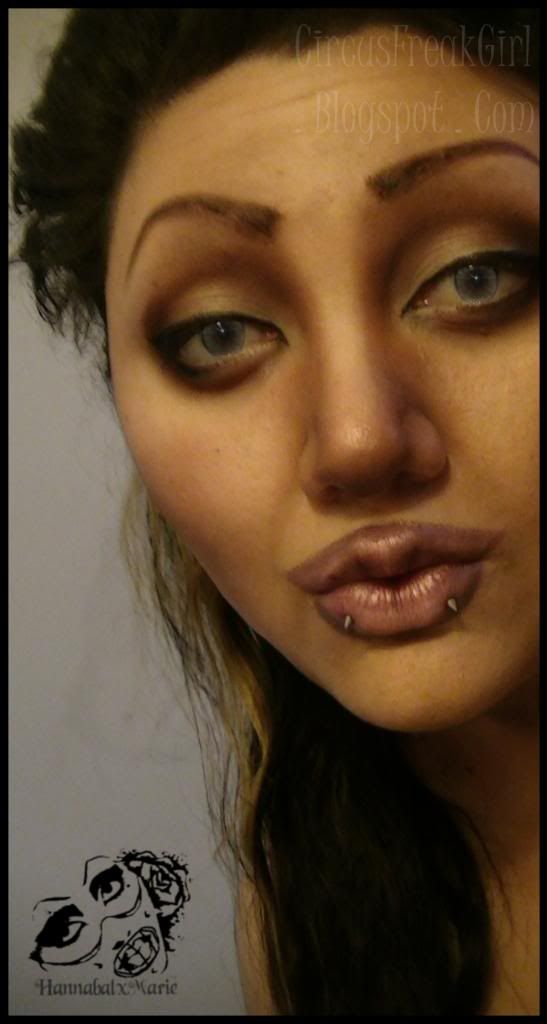 For the record, I might just make a few more AJ looks, so if you see a new AJ look in the future...please don't be alarmed. Ha!
Thanks for reading.
xoxo